Menopause and Reflexology
Posted on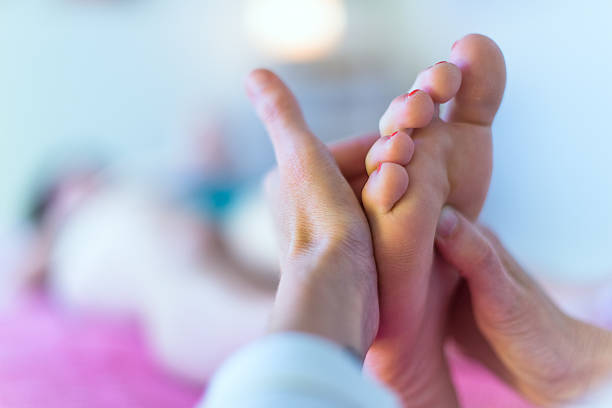 Menopause and Reflexology
Hormones are essential for health and changing levels can affect us both physically and emotionally. As we approach the menopause, our oestrogen levels drop; oestrogen has many functions, including a direct impact on the stress hormone Cortisol. As oestrogen levels drop, cortisol levels can rise which means that adrenalin can easily be triggered in the body making us feel anxious and stressed.
Reflexology during menopause can help regulate the hormones and glandular functions of the body. By working with the hypothalamus and pituitary, Reflexology can help to restore balance to the endocrine system. This in turn can alleviate menopausal symptoms such as hot flushes as well as anxiety. By calming the central nervous system, sleep disturbances can also be alleviated and anxiety and stress levels reduced.
Working on the thyroid gland, bone loss can prevented as it can help prevent calcium and phosphorus loss. Reflexology also helps the ovaries to regulate their oestrogen and the uterus to maintain its natural health and flexibility.
A study completed in 2015 in Iran looked at the effect of Reflexology in peri-menopause and menopause that showed a reduction in hot flushes and an improvement in sleep. Reflexology has also been shown to significantly reduce anxiety.
What happens in a treatment?
On your first visit the therapist will conduct a full consultation with you, taking into consideration your past and present health and lifestyle. This enables the treatment to be tailored to your specific needs. You will be invited to remove your socks and shoes and to sit or lie on a comfortable treatment couch. During the session, which lasts approximately one hour, the reflexologist will massage and apply gentle pressure to the feet and/or hands, treating the whole body as well as paying specific attention to the organs and systems of the body in need of particular care.
The effects of reflexology are cumulative and, depending on specific needs and symptoms, a course of treatments is usually recommended. Many people find it beneficial to have 4-6 weekly or fortnightly sessions initially, followed by a more general 'maintenance' session every 4-6 weeks.
DIY Reflexology
There are some simple sequences that you can learn to do at home. I recommend going to www.aor.org.uk and click on free videos to learn a few home sequences. These can be done on the hand to save you reaching your own feet!